There are lots of new releases to be excited about this week (tis the season), but a news announcement towers over all of them for me: The Humane Society International announcement that South Korea will be making some waves for beauty companies who test on animals.
About that new cruelty-free law:
Many of you may already be aware that the cruelty-free situation for Korean beauty has been murky at best up to now. One of the few English resources, Korea Animal Rights Advocates (KARA), had a list up for what companies are cruelty-free, but the image has been broken for a little while now. Luckily, I found it elsewhere.
[Via KARA]
There is a handy PDF (no date, unfortunately) floating around from KARA that specifies some companies that don't, such as Alisol, Sidmool, and Beyond.
However, you may notice that many of the brands we bloggers frequently like to discuss: Amore Pacific (Etude House, Laneige), Missha, Lioele, Benton, etc, are not on the list or are listed under the section that specifies "exports to China). There is a loophole there that's even more vague in this process: If a company sells products in China, they are required by the Chinese government to test them on animals. So while Amore Pacific says "No animal testing!", their products are sold in China — and guess what has to happen before that can take place?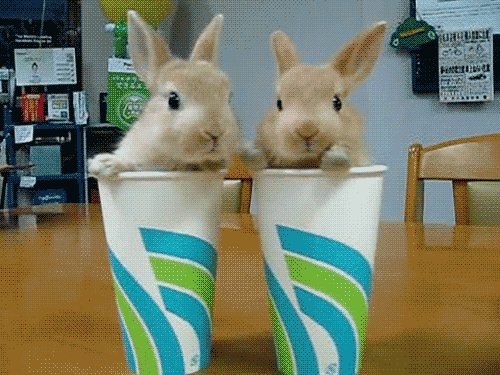 Protect these buns and their sniffers!
So, back to the news, which is BIG: Starting in 2018, a new South Korean law will mandate that the use of non-animal alternative tests for cosmetics where such alternatives have been accepted by the Ministry of Food and Drug Safety. This falls perfectly in line with the Humane Society International's Be Cruelty-Free campaign.
It's important to note that this does NOT translate to safety for all animals yet. Rather, it mandates animal alternative testing "where such alternatives have been accepted by the Ministry of Food and Drug Safety." This means there will still be some work to do for Korea's burgeoning beauty industry, and there's still some murkiness about what exactly "non-animal alternative methods" are and if companies will spend the money needed to get there. But, things are going in the right direction.
What's on the waitlist/Soon to review:
I've been reading exciting things about new low pH cleansers offerings that have been popping up, so I decided to give a few a spin (even though I do love my trusty CeraVe). If you are interested in reviews of these let me know in the comments? At the least I plan to do a two week patch test of each and then do a comparison of several in late January.
Currently in the mail for meeee:
-COSRX Acne Pimple Master Patch
-It's Skin PRESTIGE Crème D'escargot BB Cream
-Sulwhasoo Snowise Ex Cleansing Foam
-Tosowoong's Enzyme Powder Wash Cleanser
-Tosowoong's Pure Propolis Mask
-Tosowoong's Pure Snail Mask
And somewhat related:
Cat USB Air Mist Ultrasonic Humidifier (cause my skin gets dried out at work)
That's it for this week. May you all have a glowy, acne-free week! ❤
I am also on Reddit and /r/asianbeauty !